So I did the college drinking bit, finally. Ashley and Kim dolled me up in make-up and a blue shirt with a plunging neckline, and Ashley and I proceeded to find some kind of party. We got some beer from a guy who is in two of my classes (turns out he does cocaine? last time I go to his dorm room anyway). We retreived Blake and Booth from Couch where they were playing Risk, and then walked across the street to the "white house" and danced for a long while to 80s music. I guess I was tipsy. I talked to Kingsley for a while and Shea sort of started unbuttoning his shirt at me. That counts as recognition, right? The kid had probably had a lot of shots, though. There was a lot of whiskey that I did not partake in.
Earlier in the day, Lauren, Blake, Ashley and I played Scrabble. I won by one point! And I got 80 points in one turn with the word 'quick.' I rule.
Anyway, I promised that Blake was real, and so here are some pictures to prove it.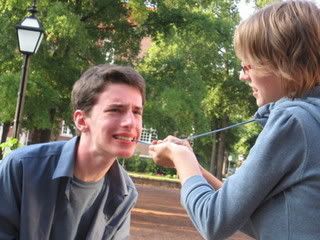 Blake eating Lauren's hoodie string thing.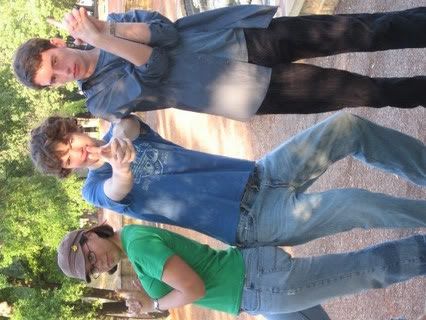 Booth is the guy in the middle.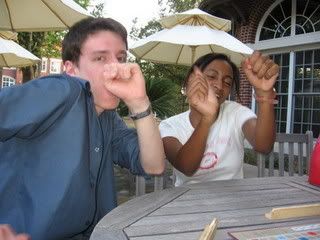 Blake and Ashley singing My Humps during Scrabble.