I got a facebook message yesterday:
"Hi, Lauren. I've been spending some time this semester trying to pick out all of the good freshman, well, the bad too, but only so that I can avoid them.
Anyway, you caught my eye when I was reading in front of Couch today, and not in a creepy, I was ogling you, kind of way either. Just a genuine interest in meeting you. I would have come over and introduced myself, but being assertive isn't really my forte.
I would love if you would hang out with me and my friends sometime. I even live in a Front Street apartment, so we have couches and the like. Trying to fit a whole group of friends into a dorm room comfortably was always such a challenge.
Well, I'm just rambling now, so I'll spare you any more reading. Message me or something. Let's be friends."
That's interesting.
I have a friend whose name is also Lauren, and we are getting involved in something called Poetry in Motion. It combines poetry and dancing, and we are going to be writers/technical assistance. That should be nice, something to do.
Pictures: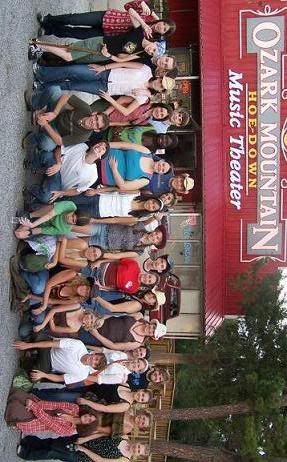 This is from Orientation. I'm on the bottom row, just about right in the middle. The girl in the hat next to me is Kelsey, who is also doing Poetry in Motion, and went to Westwood High School. Laura and Blake, the bloke I talked to for all of lunch about sonnets one time and have been hanging out with every day, are standing right behind me. The 4th girl on the top row is Stefani, who I sometimes eat with, and the girl to her right is Susanna, who I have two classes with. She is very nice and loves Star Wars.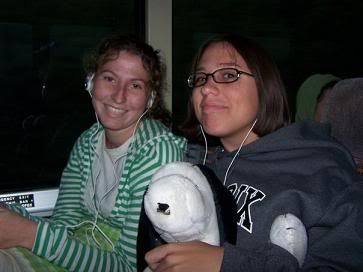 This is Laura and me on the us from Eureka Springs.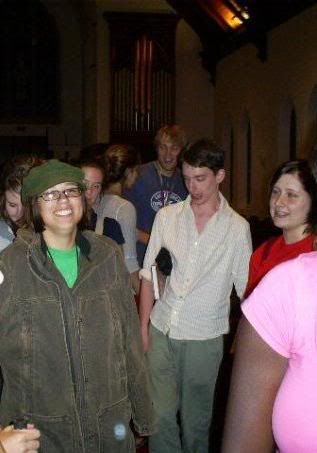 A nice girl named Cassidy (in the blue tank top in the first picture) took this picture of me and Blake before the orientation pep rally. I am wearing Kelsey's coat because I was wet from playing in the rain outside and it was freezing inside. Blake is the bloke who is dancing on my right.
So you sort of have some pictures. Today I will try to take a couple of more.
Being away from Austin is hard, but I've decided that we will survive and people may eat their words about high school romances.