Sorry! I guess I haven't updated in a while, but I guess I thought people stopped reading this! Well, Fi did not. I dedicate this act of my updating to Fi.
I didn't go to winter formal, and opted to stay in my room reading
the
story (Beatles fanfic) instead. That may sound lame to you, but I was just not looking forward to hip-hop and people grinding when I had no one to dance with. It would have taken some alcohol to make that a joyful experience, and when that is the case it is best to just not go.
Anna and I decided to take an hour each week and do a radio show. It is called Po-Mo Tea Party, and really it is just going to be us listening to indie-rock, and maybe talking about it. Maybe also other indie things like web comics, shows, and The Science of Sleep.
This is Anna:
Thia is me: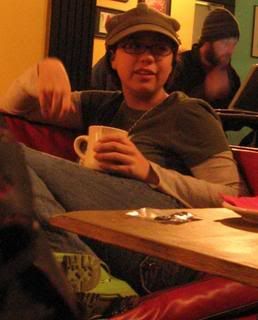 Anyway, Anna and I have been hanging out a lot. We stole each other's music on Saturday and we go to the library regularly to steal their music, too. (Why does the Conway public library have indie music and good movies? Just a thought.)
Besides the radio show, I also emailed the softball coach yesterday about maybe playing next season, and she got really excited and begged me to call her so I did and it turns out they really need some players NOW (as in, THIS FRIDAY)--especially a first baseman-- and so I am meeting with her today to discuss maybe joining the team? I was so excited about this prospect that it took me ages to fall asleep.
Meanwhile, there is also
Bonnaroo
. I downloaded a lot of music by Bonnaroo artists, and right now my favorites are:
-The Hold Steady
-Lily Allen (reminds me of a female, British Mat Kearney)
-Cold War Kids (also seeing them with Anna in Little Rock after spring break)
-Apollo Sunshine
I like everyone I downloaded so far (except Girl Talk), and seriously how could I pass up Damien Rice, The Decemberists, and Franz Ferdinand in the same place? (And The National, Wilco, The Police, etc etc etc).
Also I have classes. My Ethics professor keeps calling me a communist because of those newsie hats I wear ("Are you reading The Communist Manifesto?" "No, Aspects of the Novel by E.M. Forster." "That's communist, too!"). My Chaucer professor likes the sound of her own voice too much (to the point of turning a discussion class into a boring lecture) and I have yet to learn anything that Ms. Jeffery didn't already teach us in 10th grade (I miss her). I never pay attention in that class and I was still the only person to get an A on our in-class essay exam.
So that about sums it up for now. I am really satisfied with my social life here, and mostly with my academics, it's just that sometimes I feel like there just isn't enough time. Also I wish I could go to more shows (The Shins, Ratatat, Clap Your Hands Say Yeah).